If you've ever looked at Cricut projects on Instagram or Pinterest, you've probably noticed just how many different things you can do with a Cricut.
In fact, it can be a bit overwhelming! You may be wondering, what can the Cricut actually do? How is it helping people achieve so many epic projects, from crafts, to home decor, to hoodies?
The Cricut is such a versatile machine, it can be hard to understand what it actually does. The truth is, there are so many possibilities. In this post, I'll cover the basics of what a Cricut can do, and 35 examples of projects a Cricut can help you achieve.
What is a Cricut machine?
Simply put, a Cricut machine is a cutting machine. Or, as described by their website, the ultimate cutting machine.
While different Cricut models have different capabilities (we'll get to that in a bit!), all Cricut machines have this in common.
The Cricut allows you to cut designs faster and more precisely than you would ever be able to achieve by hand. Some circuits even allow you to cut wood, fabric, and more.
This is because, first, it's a Die-cutting machine. Die-cutting machines are simply machines that are able to mass produce cut-out shapes like the Cricut. And, the Cricut is digitally connected. Cricut's design software and digital nature eliminates the need for drawing and tracing. You can even use thousands of ready made designs in Cricut's design library!
What are other machines like Cricuts?
The Cricut is not the only cutting machine on the market, though it might be the most popular. There are a few other cutting machines out there.
Silhouette. The Silhouette is the most popular Cricut alternative. In general, the Cricut is easier to use and a better option for beginners. That said, Silhouette design software is much more robust.
Brother Scan N Cut. The Brother Scan N Cut is a less popular choice for Cricut alternatives. However, some people like it for how quiet it is, the amount of attachments, and the fact that it can work without a computer or iPad
What is the best Cricut machine?
As you may know, the Cricut comes in 3 different models at 3 different price points. There's not necessarily one Cricut that is the best, but there probably is one that is best for you personally!
Here are the three models and things to consider:
How do you use the Cricut?
Getting started with your Cricut
The good news is, Cricuts are easy to learn how to use. Cricuts were designed to bring die-cutting into the hands of the every day crafter, and they're suitable for all levels of experience.
But if you're totally new to Cricuts, you may be wondering how easy it is to get started once you've got your hands on your Cricut.
Once you've plugged in your new Cricut machine, you'll want to head over to Cricut's website to download Cricut design space. Cricut design space is the software you will use to get designs cut out using your Cricut.
It also has an incredibly useful setup tool that walks you through each step of connecting your Cricut to your computer.
Then, you're ready to get started using your Cricut!
Your first project with your Cricut
If you're not sure where to start, Cricut design space provides a beginner project for first time cutters, so you can get used to using your machine.
Cricut design space provides step by step instructions for this project from setup to completion. After this, you'll likely feel like you have the tools you need to start crafting with your Cricut!
Is the Cricut worth it?
Let's face it, the Cricut has a high price tag. But when you think of all the things you can use it for, you'll start to realize how it can actually be a great investment.
With the Cricut, you can make home decor, gifts for others, and even things you can sell online. If you use it enough, you may make your money back in savings and sales!
But you have to use it. That's why before purchasing a Cricut, it's a good idea to brainstorm a few ways you plan on using it.
If you can commit to using your Cricut on a regular basis, it's definitely worth the investment.
Everything you can do with a Cricut
Before we get to the list of 35 things you can make with a Cricut, remember this— the possibilities with a Cricut go far beyond this list!
The Cricut maker can cut over 300 materials for every different type of cutting project. That said, it can be difficult to imagine all the possibilities. That's why I put together this list of 35 things you can make with a Cricut.
35 things you can make with a cricut
1. Stickers
With Cricut's Print then Cut feature, you can easily make a sticker sheet using your Cricut! It's important to note that the Cricut is not a printer, so you'll also need a home printer that can print on sticker paper to make stickers. But you can use Cricut design space to setup your stickers so they can be cut out using the cricut after!
2. Keychains
You can use the cricut to create custom keychains using vinyl and acrylic. For a simpler keychain, you can use vinyl with pre-made acrylic keychain blanks. But the Cricut Maker can cut materials up to 2.4 mm, so you can also cut acrylic into custom shapes to make keychains.
3. Custom Clothing
Maybe one of the most popular crafts with the Cricut is creating custom clothing like T-Shirts, Jackets, Crewnecks, and more! Maybe you want to make cute shirts to sell, make a "Bride" jacket for your wedding celebrations (Like this awesome jacket!), or make matching shirts for your family. These can get really costly, and it's difficult to find the exact design you want. You can use a Cricut with iron-on vinyl to cut out designs that can be ironed on to custom clothing.
4. Tumblers
Using a Cricut with permanent vinyl, you can create custom tumblers for your favorite beverages. I love custom Starbucks tumblers that some people choose to make with their Cricuts, like this one. Permanent vinyl is super durable and can even be ran through the dishwasher.
5. Confetti
Yes, you can make confetti with your Cricut! Cricut has a material called party foil, which designs can be cut out of for custom confetti.
6. Wood Signs
Did you know you can cut wood with a Cricut? Personally, I am a huge fan of wood Cricut projects because the finished product can look so high end. People would be surprised you can make a quality wood sign like this at home!
7. Nail decals
If you're thinking about buying a Cricut, but wondering how much you'll actually use it, remember that a Cricut can be used for so much more than just standard crafting projects. I always love a fresh manicure, and you can actually use your Cricut to create custom nail decals using adhesive vinyl!
8. Paper flowers
These paper flowers are a super popular Cricut project, and can add flair to gifts, cards, and decor.
9. Gift Tags
I don't know about you all, but I always reuse gift bags. That usually means I don't have a gift tag to go with them! With a Cricut, you can make custom gift tags out of wood, vinyl, and more.
10. Signs
You can use your Cricut to make so many different styles of signs, whether they be for home decor or for an event like a wedding. You can order sign blanks, and then use the cricut to print designs that go on them.
11. Christmas ornaments
Crafter or not, it seems like everyone gets in the mood to craft around the holidays. Custom ornaments using the Cricut are a great holiday project!
12. Mugs
Mugs are another Cricut favorite. If you're a Cricut owner, you might have an entire cabinet of mugs you've created. Mugs are also a great Cricut project to sell on Etsy or in your own online store!
13. Shadow Box
These shadow boxes look so intricate and beautiful, but are actually relatively simple to make using a Cricut! They make great gifts for so many different occasions. Extraordinary Chaos provides a great tutorial and free template for this shadow box.
14. Stationery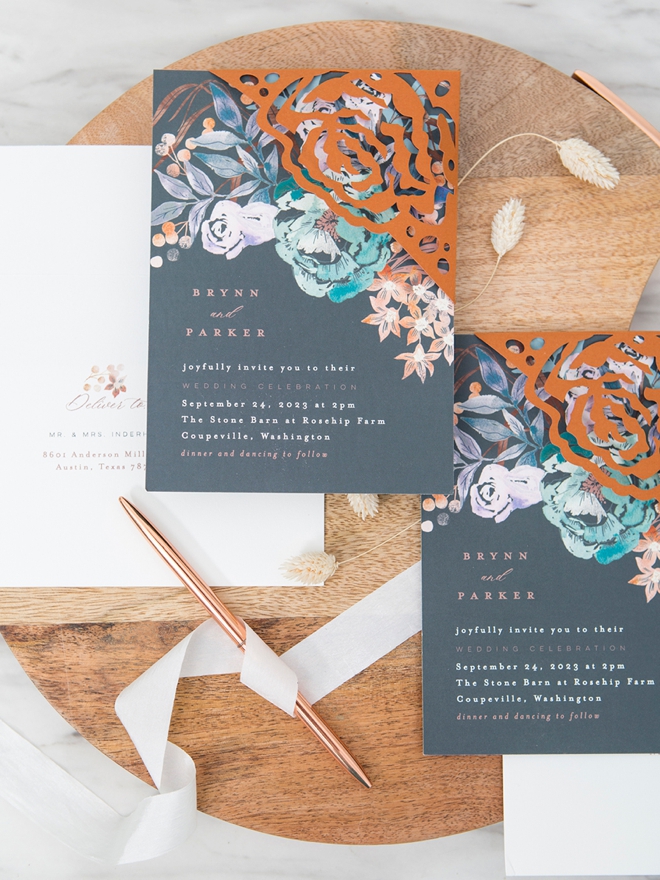 You don't necessarily need a cricut to design and print stationery, like invitations. But you can use a cricut to add extra flair to invitations. I am obsessed with this lace floral wedding invitation wrap that was made with cricut from Something Turquoise.
15. Light box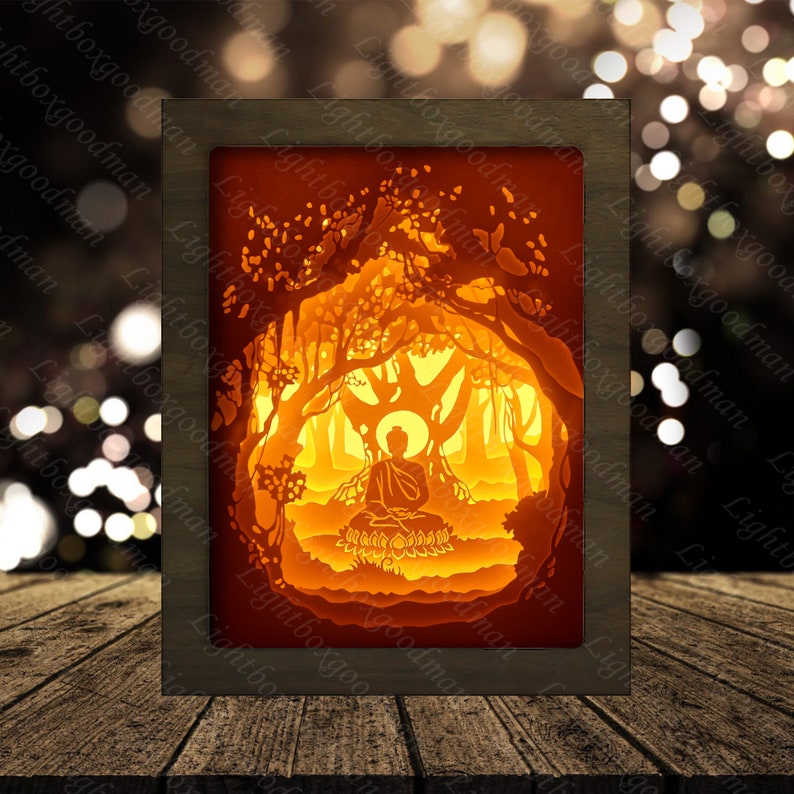 Similar to shadow boxes, you can create these amazing lightboxes with the addition of LED strips. Plus, there are so many pre-made light box templates on Etsy, like this one!
16. Gift boxes
You can save a lot of money on gift boxes if you cut your own using your Cricut! Plus, you'll always have the right size for the gift you're giving. Daydream into reality has a great tutorial on how to create gift boxes with your Cricut, with free templates!
17. Labels
One of the more practical uses of the Cricut is to label things around the house, like your spices. This beautiful spice drawer is from Organized-ish. In her post, Lela walks through how you can create spice labels using your Cricut. I think this is such a great idea because while you can purchase labeled spice containers, they might not have every spice you need, and you might need to add more as your spice collection inevitably grows!
18. Bookmarks
If you're a reader, you can make custom bookmarks using your Cricut. These also make great gifts for the bookworms in your life. Daydream into reality has a great tutorial on making bookmarks with your Cricut and even provides a free template.
19. Artwork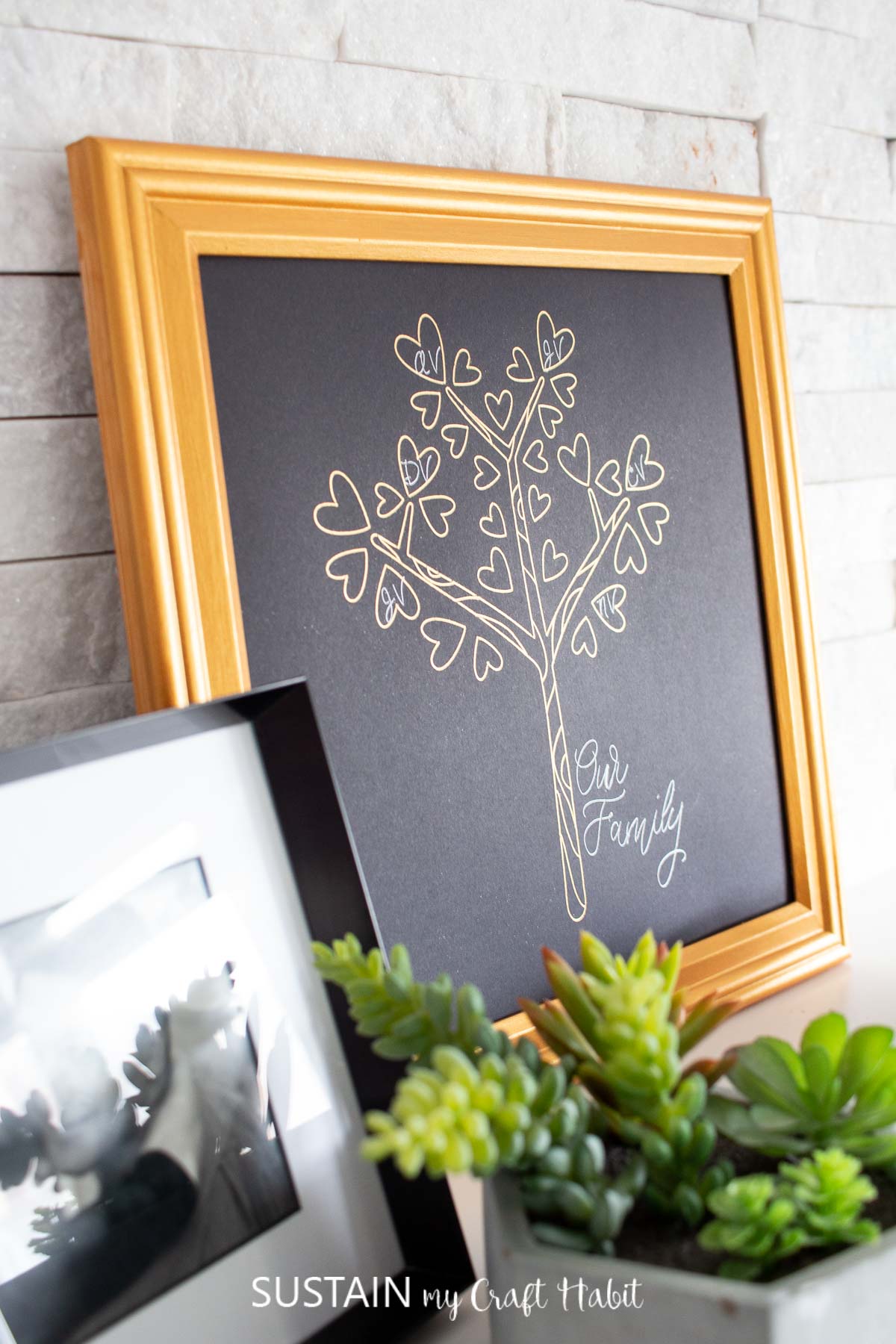 You can use your Cricut to create unique, custom wall art like this family tree from Sustain My Craft Habit. Cricut has a foil transfer kit that can help you create artwork like this. I'd recommend reading the full post to learn more!
20. Tote bag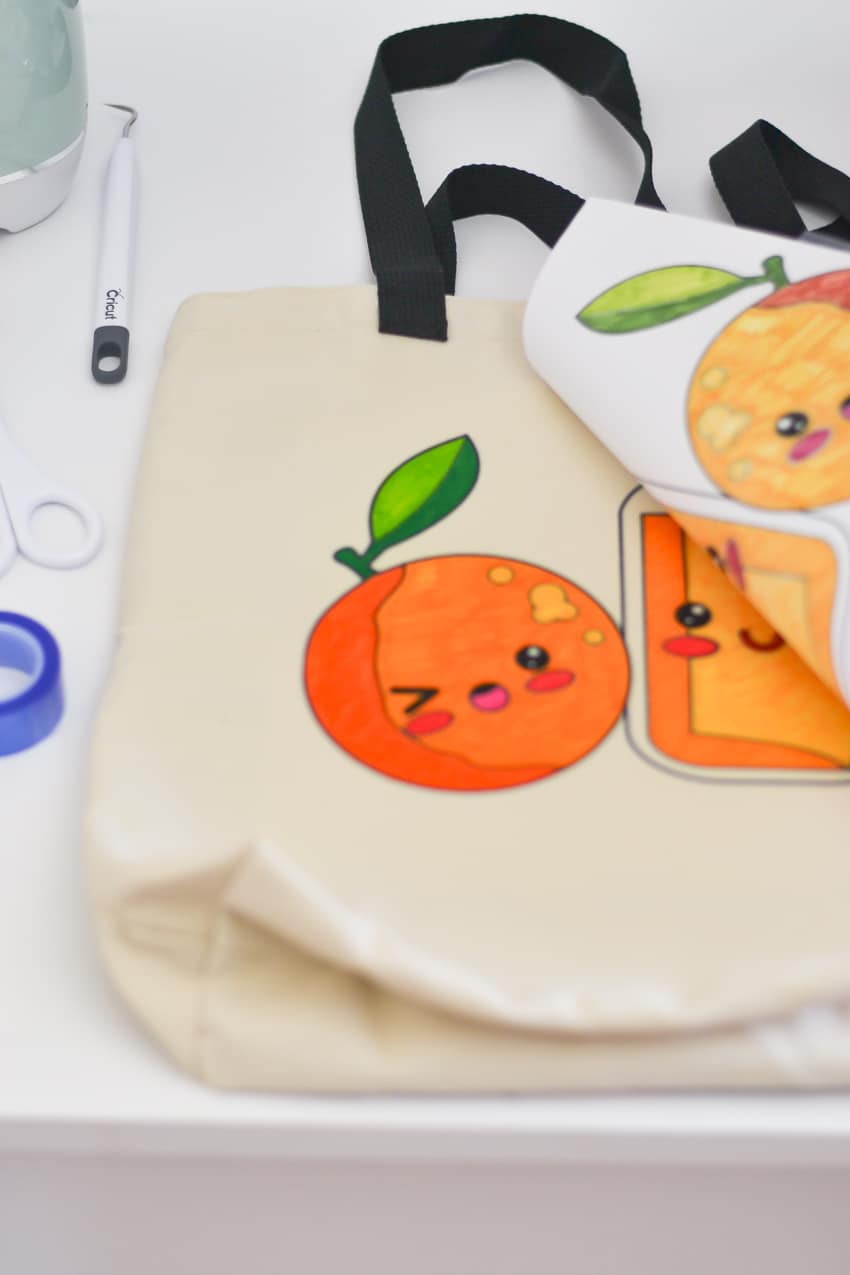 I feel like I'm always carrying around a tote bag with some random logo on it. But with Cricut, you can create your own tote bag designs. This tutorial from Three Little Ferns explains how to achieve an adorable custom tote using Cricut infusible ink sheets.
21. Shoes
People can make the coolest designs on shoes by hand these days. But if you're looking for something longer lasting, you can use your Cricut to create designs to add some flare to your sneakers.
22. Jewelry
There are several ways to create jewelry using your Cricut. For starters, you could consider making earrings out of wood or leather. In this tutorial, Persia takes a unique approach, using her Cricut to create embossing stencils for custom clay earrings.
23. Quilt
Did you know the Cricut can cut fabric? This can save you a lot of time if you want to create a quilt!
24. Bullet journal & planner stickers
If you are an avid journaler or planner, you might find yourself needing some pretty specific types of stickers. You can use your Cricut to create custom elements to help you organize (or decorate!) your planner.
25. Felt Toys
The Cricut can cut felt, so you can actually use it to make toys. This can make any felt project much less tedious. These finger puppets from housewife eclectic are adorable and easy to make with Debra's post!
26. Car decals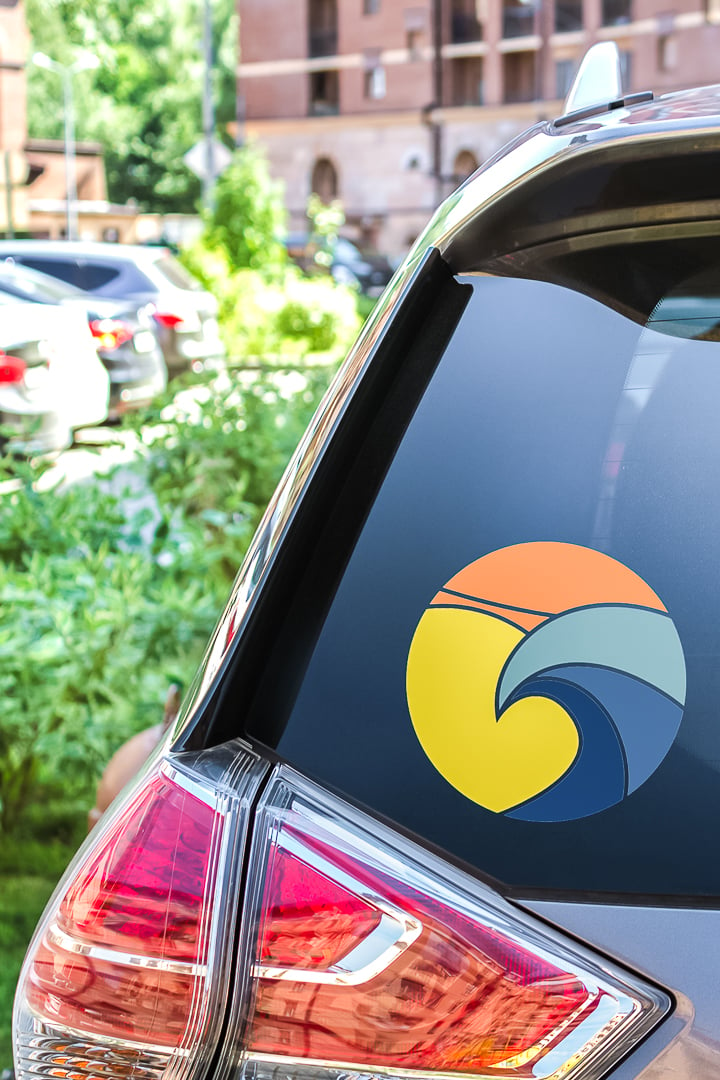 Yes, you can use your Cricut to make your own bumper stickers/ car decals! Check out this post from Angie Holden to find out what material works best for this.
27. Kitchen Towels
This is just the perfect housewarming gift. There's no such thing as having too many kitchen towels! You can customize your towels for the occasion, but personally, I'm a fan of these Yoda inspired towels!
28. Wall Decals
Who needs peel and stick wallpaper when you have a Cricut? With a Cricut, you can easily add decorations to a room by making wall decals.
29. Halloween Costumes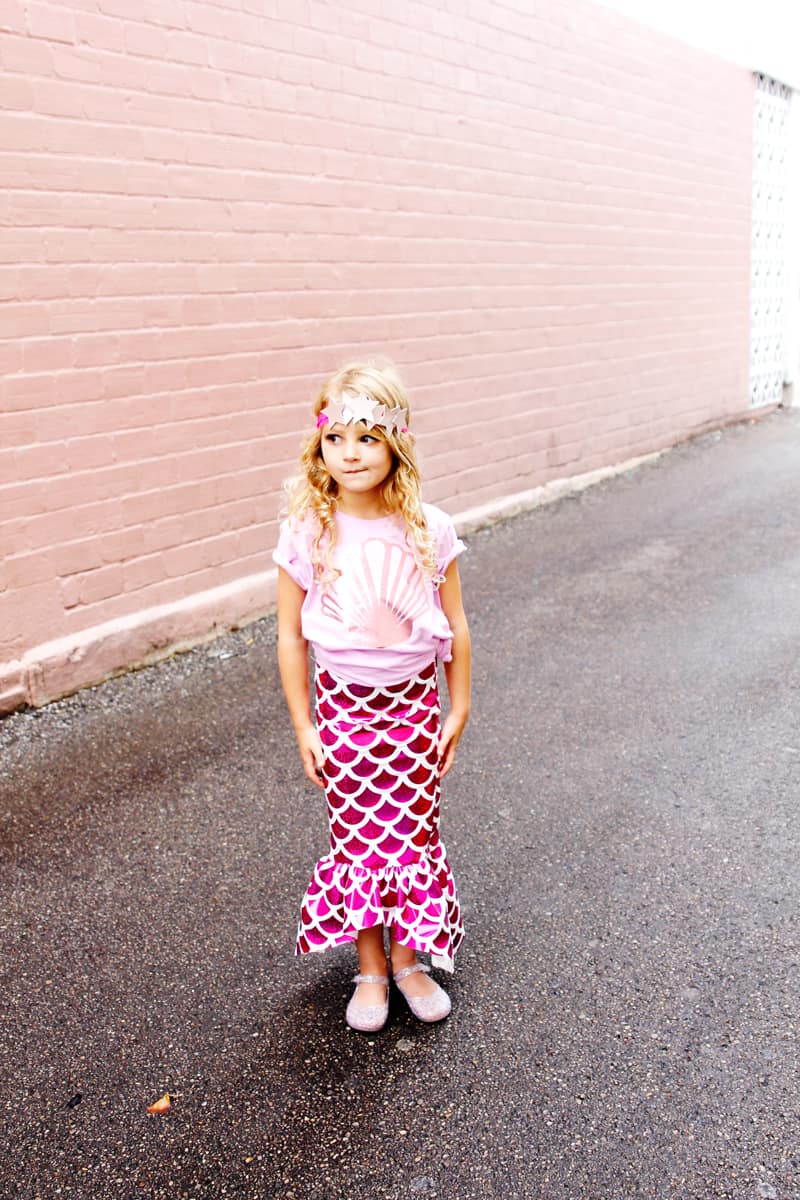 Homemade Halloween costumes may seem like a daunting task, but did you know a Cricut can help? There are many ways you might go about making a halloween costume with your cricut. You could cut felt pieces or make a shirt. In this particular costume, Kate actually used her Cricut and Cricut easypress to make the fabric! So incredible!
30. Pillows
This outdoor pillow looks like it came straight from homegoods! With Cricut and a sewing machine, you can create quality throw pillows at home.
31. Decorative candles
Everyone loves a candle that not only smells great, but also looks great! You can use your Cricut to decorate candles with intricate foil designs.
32. Welcome mat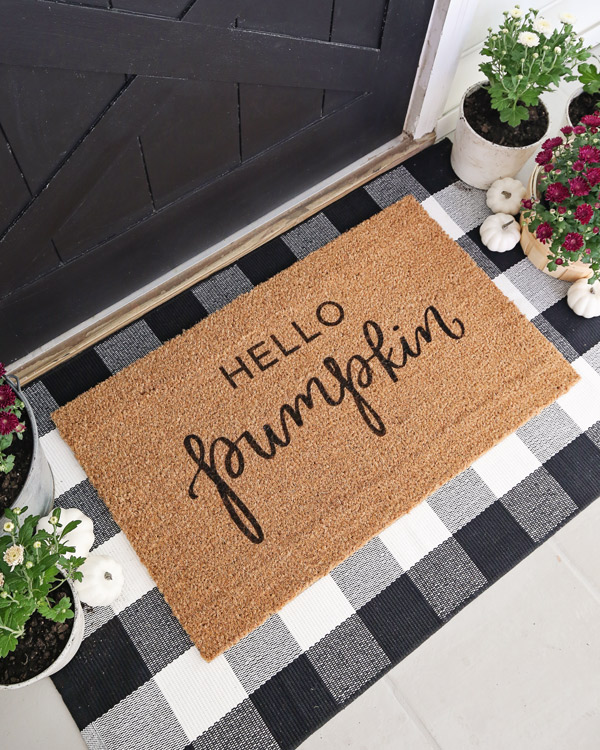 How would you create a custom door mat with a Cricut, you ask? You can use your cricut to create and cut out a stencil, then paint a plain door mat with your design. Such a great idea, especially if you like to change your welcome mat with the seasons– that can get expensive!
33. Phone cases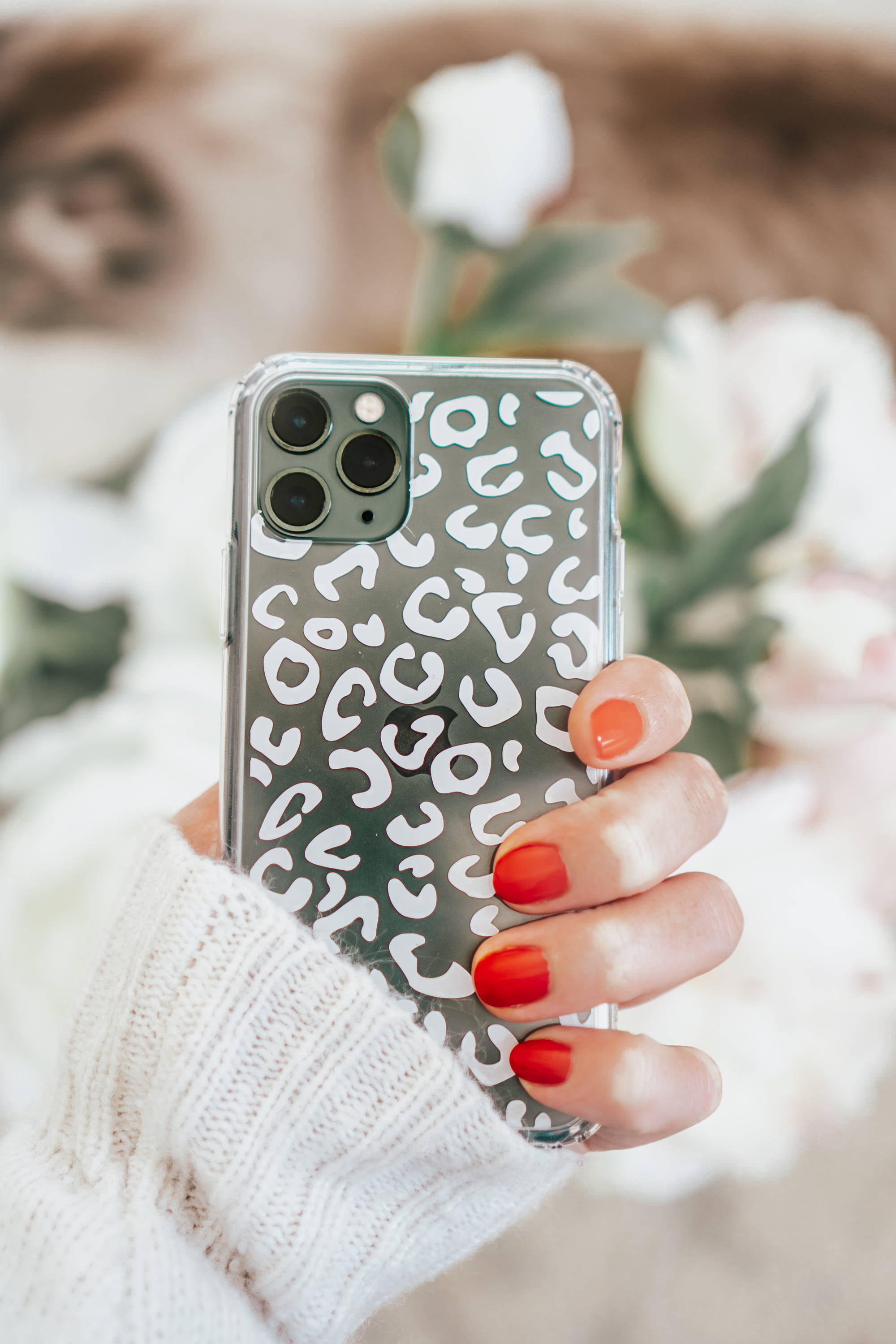 I can spend hours shopping for a phone case, and still not find anything I love. With Cricut, you can create your own super cute phone case, like this leopard one from craftables!
34. School supplies
You know how the school supplies with cute designs are always the most expensive? And how kids always want new supplies every year? With a Cricut, you can make amazing, customized school supplies for your kids. Not to mention, they won't lose it if it has their name on it! On Creative Ramblings, Sarah walks you through how to personalize all your school supplied with Cricut.
35. Personalized gift baskets
With a Cricut, you can become the ultimate gift giver! Cricut allows you to personalize so many different items for a super cohesive gift basket, like this spa themed basket.
Closing thoughts
I hope this post opened your eyes to all the possibilities of things you can make with a Cricut. Really, this just scratches the surface! The Cricut can help make thousands of crafts so much easier. Almost any time you need to cut something out, a Cricut could make your life much easier.
If you are deciding whether or not to purchase a Cricut, I hope this helps make your decision. Truthfully, a Cricut is an investment. While it is costly up front, there are so many ways it can save you money on gifts, home decor, and more.
What will you create with your Cricut?